Oregon NORML Hotline: 503-489-8792
Oregon NORML Voter Guide 2018
Submitted by admin on Wed, 05/02/2018 - 02:33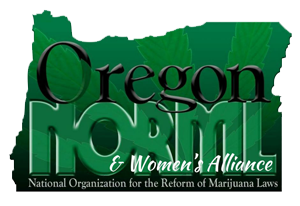 Here at Oregon NORML, we are working to hold our legislators accountable at the ballot for state cannabis policies. We think it is important that voters know how their representatives feel about this issue. Through the NORML Responsible Access Plan (aka NRA Plan), we are taking a queue from the effective strategies used by the National Rifle Association to demand respect and legal protections for cannabis consumers. We are meeting with legislators and preparing the Oregon NORML Voter Guide 2018 to be released this fall in anticipation of 2019 legislation that would license and regulate cannabis consumption lounges.
We are reaching out to those that represent us and asking five simple yes or no questions that we as Oregon NORML have determined are central to our organizational goals. An affirmative answer to all five equals an A grade, four a B, three a C, two a D and one or less an F. Pluses and minuses are added based on additional commentary from the representative about specific legislative action they will take, or publicly available information.
We need your help to identify the positions of each and every candidate on the ballot this year as well as current representatives not up for re-election. Below are the scorecards we have released to the public, here is how you can add your legislator to the mix:
1. Find our who represents you in the Oregon Senate and Oregon House of Representatives: https://www.oregonlegislature.gov/findyourlegislator/leg-districts.html
2. Reach out. Either send them an email message (suggested text below[maybe link to it at bottom of page?]) or ask for an in person meeting. Let them know you are a constituent and would like to discuss legislative priorities.
3. Record your representative's answers and submit them back to Oregon NORML. You can forward the messages to [email here]
Oregon NORML will assess and publicize each legislator that is graded and maintain the full list here as it grows. Don't forget to vote this Tuesday November, 6, 2018!
---
Dear [name of your representative],
Hello, my name is [your name] and I am in your constituent, a tax-payer and a supporter of legalized cannabis. I am writing you today to obtain information about your views on cannabis consumers' rights issues as I make my decisions about who to vote for in this year's election. I would like to know your answers to the following questions, which I will be making available to the public via Oregon NORML at ornorml.org.
1. Will you support legislation that would increase safe, affordable access to patients?
2. Will you support legislation to license and regulate cannabis consumption lounges?
3. Will you support legislation to end discriminatory practices against cannabis consumers in the workplace and housing market?
4. Will you support legislation to regulate cannabis producers and processors like breweries and wineries so they may give tours of their facility, provide samples and sell directly to consumers so long as they charge and collect taxes?
5. Will you support Oregon NORML's efforts to push for federal decriminalization and descheduling of the cannabis plant?
Thank you for your time and I appreciate your response.
Sincerely,
[your name]